Midwest Prophecy Conference in Lafayette IN (Indianapolis Area)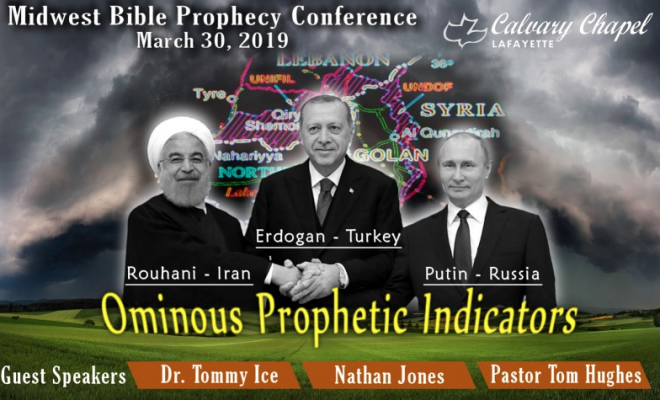 Join Pastor Tom as he teaches with Dr. Tommy Ice and Nathan Jones at a special conference at Calvary Chapel Lafayette Indiana. You will be well informed by three top notch prophecy teachers as they look at the Ominous Prophetic Indicators found in the recent developments between Russia, Turkey and Iran.
When: March 30, 2019
Where: Calvary Chapel Lafayette

 Dr. Tommy Ice, Professor, author, and one of the foremost authorities on Bible prophecy. Dr. Tommy Ice is the executive director of a Bible prophecy research center which he co-founded with Tim LaHaye in 1994 to research, teach, and proclaim end-time Bible prophecy with a focus on the Pre-tribulation Rapture. Tommy has written or co-written over 40 books and hundreds of articles and publications on the subject. Dr. Ice is a frequent speaker at Bible conferences throughout the world. He engages in frequent debates on the Rapture. He has served as a pastor for 17 years, and is currently Professor of N.T. & Theology at Calvary University in Kansas City, MO. Dr. Ice has a Th.M. from Dallas Theological Seminary, a Ph.D. from Tyndale Theological Seminary, and has done post-doctrial work at the University of Wales in the United Kingdom. Dr. Ice lives in Kansas City with his wife Janice. They have three grown sons. Web Site: http://www.pre-trib.org

 Nathan Jones, Bible prophecy teacher and host of Lion & Lamb television program along with David Reagan. Nathan Jones serves as Associate and Web Minister for Lamb & Lion Ministries. He can be found co-hosting the ministry's television program Christ in Prophecy, and developing the Web Ministry at www.lamblion.com, authoring books such as 12 Faith Journeys of the Minor Prophets, blogging daily on The Christ in Prophecy Journal, discussing current events on the Christ in Prophecy Facebook Group, producing video Q&As such as The Inbox, being interviewed on radio programs, speaking at conferences and churches, and answering Bible-related questions sent in from all over the world. A life-long student of the Bible and an ordained minister, Nathan graduated from Cairn University with a bachelor's in Bible, attended Southern Baptist Theological Seminary, and received his Masters of Management and Leadership at Liberty University www.christinprophecy.org

Pastor Tom Hughes, Pastor, author, and Bible prophecy authority. Thomas J. (Tom) Hughes serves as Senior Pastor of 412 Church in San Jacinto, California. He has been teaching Bible prophecy for over 25 years. He regularly appears on a variety of TV, radio, and internet programs — including Breaking News with Thomas J. Hughes on HisChannel.com. A frequent speaker at prophecy conferences, he has a unique gift for helping people understand what the Bible calls the "Last Days." He lives in Southern California, with his wife, Jackie, and their two children.