Special Live Prophecy Update with Pastor Tom Hughes and Pastor James Kaddis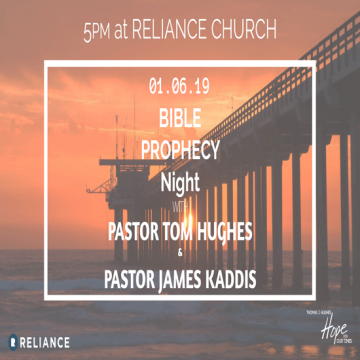 Join Pastor Tom Hughes and Pastor James Kaddis for a special one night LIVE Prophecy Update hosted by Pastor Ted Leavenworth at Reliance Church in Temecula California. You will be blessed as they use their vast knowledge of the prophetic Word of God and inform you as to where we are right now on the prophetic timeline. Is the war of Ezekiel on the horizon? How close are we to the rapture? Is the Rapture even true? Does America have a place in the Bible prophecy? Find out on January 6th at 5pm!
Do you have friends and family members who need to hear about the HOPE that comes through Bible Prophecy?  If so you will want to bring them to this special one night event. Make sure to come early as seats will fill up quickly!!!
Where: Reliance Church 29825 Santiago Road, Temecula, CA 92592
When: Sunday January 6, 2019 5pm